I had no plans, nor any desire to be a stay-at-home mom.  None.  I thought it was great for those moms who were "gifted" at that sorta thing.  But it wasn't for me.  I thought it would bore me to tears.  Washing. Cleaning. Cooking. Caring for children all day.  Are you kidding?  Not me!
Obviously, something changed because here I'm in my 16th year of homeschooling.
Let me tell you about how this career minded, ambitious lady turned into this baby-making machine, and homeschooling mama.
After graduating with my first degree in Engineering, and marrying my sweetheart, we moved to Texas so I could pursue a Masters Degree in Engineering.  My plan was to become an Electrical Engineer, but because my first degree was in Engineering Technology, I decided to pursue a Masters.  We moved to Texas with youthful ambition and determination.  I was determined to get a fellowship at Prarie View A&M University.  And I did. We were determined to make a life for ourselves.  Ed and I made the most of the connections that we had, and that landed him a job as a teacher's aid in Temple, TX.
So I went to school in Prarie View, TX while Ed worked in Temple, TX.  We lived in Bryan, Texas.  It was a crazy setup.  Prairie View is an hour south of Bryan.  Temple is an hour and a half  northwest of Bryan.  Everyday we drove in completely different directions.  We even spent 6 months of that first year of marriage with me living in Houston during the week as I worked as an intern for Texas Instruments.
Eventually I ended up with a National Science Foundation fellowship to pursue my masters at any University in the country.  I chose the Univeristy of Texas in Austin.  So… we moved to Austin.
Oh, by the way, I was also pregnant with my first child, Brian.
I was still on track to obtain my Masters degree in Electrical Engineering and enter the work force as an engineer.  The future looked promising. In fact, I did graduate from UT with a MS in Electrical Engineering and began working for an engineering design automation company.  My career was going well.  Our finances were doing great. Everything was going according to plan
except…
I had this nagging feeling that there was something more for me. I tried to ignore it. Supress it.  I tried volunteering to help teens in foster care.  I loved working with the teens, but it didn't settle the nagging feeling inside.
I remember dropping my son off at school every morning, and him sobbing as I left him.  It just didn't seem right to leave him there crying for me.  I would watch him through the window as he eventually calmed down and began to settle into his classroom routine.  I would leave him with this aching feeling inside.  And yet, I would brush it off because I had to work.   That's just the way it had to be.  Besides, as I said before, I didn't want to be a stay-at-home mom.  In fact, the days that I did stay at home with him were torture.  I couldn't stand the idea of just he and I being home together EVERY DAY.  I loved my son, but evenings and weekends were enough for me!    This was an intense kid.
But that nagging feeling wouldn't go away.  I can remember so clearly listening to radio shows about stay-at-home moms and becoming so angry.  I was a good mama! Clearly, I was struggling with my own personal issues, because the shows never condemned moms who worked.  I was resisting the call on my heart.
How could I become a stay-at-home mom?
I earned our primary income.
I had worked so hard for so many years to reach this point in my life and career.
I liked the life we had finally made for ourselves.
I might hurt somebody if I have to be home all day being bored.
and on and on and on…
I finally surrendered at a Family Life Marriage Conference after a session about the role of a Mom.  I realized that God had been calling me home.  And once I said yes, I felt this flood of peace.  I didn't know how we would make it.  I wasn't sure I would like it.  But I knew that I knew that I knew with every fiber of my being that I was supposed to be home with my son.
I told my husband and he looked at me like I was crazy.
I told my parents and they thought I was crazy.
I told my co-workers and they thought I was crazy.
Maybe I was crazy.
I guess I am crazy to think that I've been placed here on this planet to love my children. To be available to teach them about life. To be the shoulder they cry on.  To walk them through the difficulties of life. To push them to do hard, but good things. To cheer them on. To pray for them. To listen to their dreams. To teach them that they are precious and have a significant purpose.
I guess I am  crazy to sacrifice  money and material possessions in order to have more space in my life for relationships. I guess I'm crazy for wasting my degrees, my experience and my talent on my precious family.
Really?  My family is worth having the best of me, not the leftovers.
I can always make money. But time is a commodity that I can never recover.  I don't want to waste it on anything as frivolous and fleeting as money, prestige, or career advancement.  I want my time lavishly poured out on those that matter most to me.  Yes, my children and my husband.  But also, on the person that is right before me.  I want to use my time to recognize the precious worth of every person I encounter.
That cannot be done when I'm reaching for things, checking off my to-do list or chasing accomplishments. (And I fully admit that I often go back to this way of living. That's why I'm so thankful for grace.)
That's how, in a nutshell, my plans for prosperity and achievement were completely changed.
My plans changed in order to align myself with God's plans.  All along He's had a plan for me.  They haven't been anything that I've expected.  They've been very difficult at times. Disappointing at times. But so, so good.  His plans have taken me on wonderful adventures.  Sometimes His plans have broken my heart.  Other times His plans have filled me laughter.  And every time I've fully submitted myself to his plans, I've experienced  a deep, down-to-the-core-overflowing joy and peace that cannot be fully expressed with words.
All is well.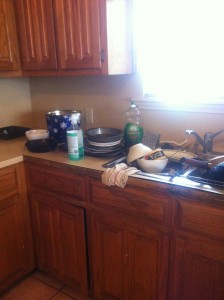 Today sink is overflowing with dishes.(It's always overflowing with dishes.) The bathroom is a mess. There's a pile of unfolded clothes in the laundry room. The SUV wouldn't start this morning… but
today we laid on a blanket in the front yard and talked about love, and read a biography together.  My youngest two baked biscuits from scratch for the first time.  And my oldest daughter sat at the piano and played and played and played. I LOVE hearing my girls play the piano.
We've made the space in our lives for the things that matter most to us.
I'm overflowing with gratitude and joy because I've been given the privilege of being here to love my children and husband.
And I'm NOT bored. 😉